Introduction of Guizhou Nuo Culture Museum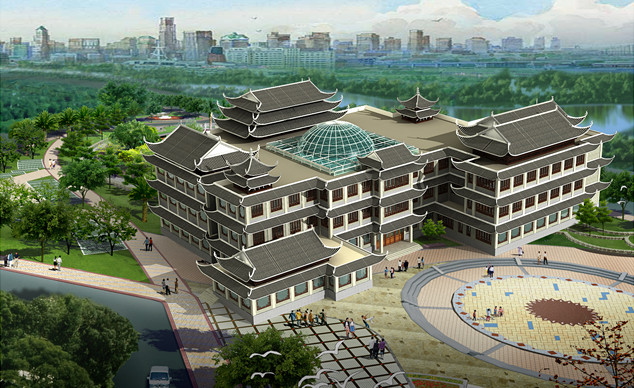 The first Nuo Culture Museum in China is preparing in Tongren city, Guizhou province. Tongren has its unique history and geographic environment. It is beside the Fanjin Mountain which is one of the famous Five Buddhism Mountains in China. Many minorities reside in Tongren area, such as Tujia, Miao, Dong, Buyi and Gelao, etc. They live together peacefully and maintain their own traditional culture and custom, especially abundant of Nuo Theatre and Nuo culture. Tongren is a good place for building a Nuo Culture Museum.
Tongren government had spent more than 20 million yuan on building new hall in Folk Custom Garden in Tongren. Including the new buildings, the area of the museum is 8,217 square meter. It has 3 levels and every floor with 1,100 square meter exhibition area. In the new museum, there are four parts of exhibition mainly about Nuo culture in Guizhou province: the origin of Nuo and survey of Guizhou Nuo culture; the representation way of Nuo culture; the characters of Nuo Art; the influence of Tongren Nuo and the research on the Tongren Nuo. The museum has a Nuo altar and laid Nuo spirit drawings made in Qing dynasty and over 300 Nuo masks made in Min dynasty to period of Republic of China on it. Besides that, the museum has over a hundred sacrificial instruments and books, more than one thousand pictures about Nuo activities and more than one thousand Nuo research products. These displays showing Guizhou Nuo culture in different aspect are not only the material object for Nuo culture research, but also the cherish information for research on ethnology, folklore, history, religion, music, dance, theatre and art.
Guizhou Tongren Nuo Culture Museum, the predecessor of Guizhou Nuo Culture Museum, opened in March 1991 and located in Tongren Dongshansi. At the beginning, China Centre Television (CCTV) has reported about the museum in China Around program. During 1990s, the museum organizes some performances and exhibitions around in China. In May 1990, invited by China Red Mansion Research Institute and International Art Service Company, the museum held exhibitions and performances in Beijing Daguan Garden. It attracted more than 200,000 people and has been praised by researchers and scholars. In Apr 1991, the museum coordinated with some relative units in Beijing to make TV series program "Guizhou Tongren Nuo Culture" and "Fanjin Mountain and Wu River" that had been broadcast on CCTV-2 channel. During Sept to Nov 1991, invited by China Travel Service Hongkong limited company and China Folk Customs Culture Village in Shenzhen, the performance group of the museum attended the opening ceremony of China Folk Customs Culture Village. Its performance has last 3 months. The performance group of the museum had won the Performance Regard in the 1st Chinese national Culture Expo in Beijing 1991. They had reproduced two series Nuo masks and exhibited them in embassies of France and USA. Invited by Laishui county government in Hebei province, the group performed in the first Miao Village opening ceremony in Northern village of ethnology during July to Sept 1992. During Dec 1992 to Jan 1993, invited by Chinese National Culture Art Company and Government of Shenzhen city, the group performed special magical programs which absorbed more than 1 million people. In Jan 1994, the museum held International Nuo Culture Research Expo which shows more than 4 thousand products, including books, articles, journals, audio-video, pictures and wall painting. Visiting group from Japan, Korea, France, USA, other countries in Southeast Asia, Hongkong SAR and Taiwan district came to watch the exhibition. The museum had published "Nuo Culture Research Result catalogue Index" in 1995.
The preparation of the new museum had been supported and directed by the Tongren government. The preparation work is moving fast and the museum will open on 1st May 2013. We believe that the unique Nuo culture museum in the world will made widely influence. It will develop especially in combining exhibition with research result and in strengthening communication with scholars both inside and outside.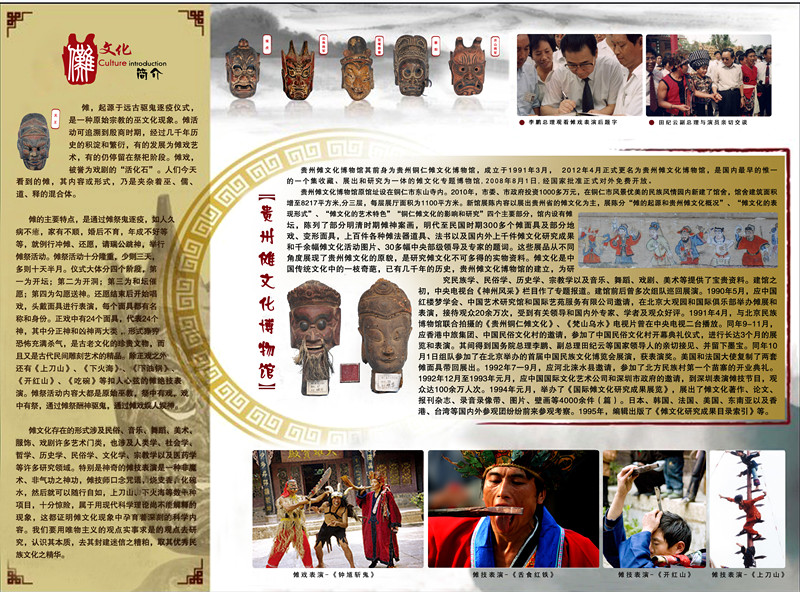 Tang Zhizhou
The President of Guizhou Nuo Culture Museum